Amar Shergill
I began my career working for insurance companies so I know the tactics and tricks they use to deny proper compensation to injury victims. Now, I use that experience against the attorneys hired by the insurance companies. Although some attorneys play both sides of the fence, the Shergill Law Firm refuses to represent the insurance industry.
I am active in the local bar community and am a board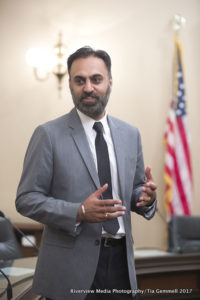 member of the the Capitol City Trial Lawyers Association.  I was also founding President of the South Asian Bar Association of Sacramento and am a long-time member of the Consumer Attorneys of California.
I have an undergraduate degree in finance and completed my law degree at the University of North Dakota. During law school, I was the Intra-School Moot Court winner and a member of the Law Review. I have been admitted to the State Bar of California Bar as well as the U.S. District Court, Eastern District of California.
I live in the Sacramento area with my wife and three children. When I am not busy with my legal practice, you may find me taking my children to soccer and wrestling practices. My son and I are past champions of the Pack 329 Pinewood Derby while my daughters are the champions of my heart.
I love the practice of law because every day I have the opportunity to help people that are in need. I enjoy the challenge of jury trials, necessary to ensure fair compensation for my clients. If you or someone you care about needs help, contact me without delay.
---
Call Us Toll-Free:
1 (888) WAY-2-WIN
Tel: (916) 564-5781 | Fax: (916) 564-2764